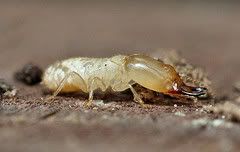 It was the termites that took us down,
Much to our surprise.

One day we were
The masters of the world –

Proud, ponderous and unassailable –

But our edifices could not withstand
The sudden coordination
Of their assaults:

Civilization
Quite literally
Crumbled.

Fortunately
The ants were kind enough
To take us in.


---
Photo courtesy of Velo Steve