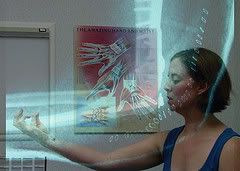 I accidentally wrenched my arm
And it popped right off.

It fell on the floor,
Writhing with all the dumb urgency
Of a headless snake.

I couldn't bring myself to pick it up.

The thought of those blind fingers
Clutching and grasping at me
Was repulsive.

I found a broom and swept it out to the corner
And into the gutter.

I've been sitting here, sort of watching TV,
Trying not to mind

The scratching sounds at the door.


---
Photo courtesy of
Lyra Bellacqua