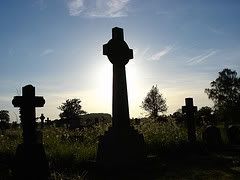 You might as well have a nice, plush pillow.

Ever seen an urn from the 15th century?

It's like a womb,
Only in reverse.

Kids can make traceries of your tombstone.

You'll be feeding the hungry
(worms, that is).

With any luck, you'll become a vampire.

Or a zombie.

In the event of a Rapture,
It's a lot easy for God to find you.

Today's grave is tomorrow's archaeology.

Think of it as doing your part
To help out productions of Hamlet.


---
Photo courtesy of
Starbuck Powersurge