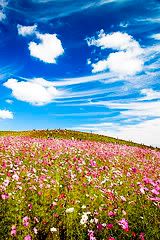 We make the universe in stages.

Opening our eyes,
We create light,
And from light,
We build distance,
Perspective,
Color and texture;
Weaving rainbows into shape.

Taking a step,
We create space.

Pausing,
We invent time.

Listening,
We invent sound,
laughter,
Speech and song:
A furious creation
That echoes and multiplies.

Somewhere in this process
We forge meaning
And with this lever
We cast ourselves
Out of the void
And into the everlasting everything.


---
Photo courtesy of Shin Kusano