Blogger, in their effort to encourage the art of blogging, periodically publishes articles whose intended function is to give advice and words of encouragement to the bloggers that use their service.

Last September they published an article on how one should go about promoting ones blog. Included in the article were a number of suggestions on how to make a blog successful. Two, in particular, have stood out in my memory:

Keep your blog on topic
Keep your posts brief
As of the Tuesday after next, I will have spent a full year in flagrant violation of these cardinal rules.
For nearly a year now, I've been publishing poems, pointers to various sites, and all sorts of random thoughts and observations on any number of things. On a regular basis I have also (though not without the occasional lapse) been posting weekly essays on topics ranging from the moral basis of law with regards to the question of free will to the subject of what philosophers have to say about telling the difference between one's ass and a hole in the ground. My essays have ranged in length from short ones barely over five hundred words to monsters exceeding seven thousand with the majority falling somewhere between fifteen hundred and twenty-five hundred words.
According to Blogger, my blog should not be a success. So, is it a failure?
Like many blogs out there, I employ a tracking tool that helps me see how many hits I get as well as some basic information on the sorts of hits I get (see chart). On an average day I get about 20 unique visits. Of those twenty, about 5 will be from returning visitors (although that can be difficult to estimate). Of the new visitors, an average of two will click through to the archive. Looking at overall hit indicators, I would guess that I have about fifteen regular visitors and another ten who come here semi-regularly (although there is a lot of inference involved in coming up with those numbers).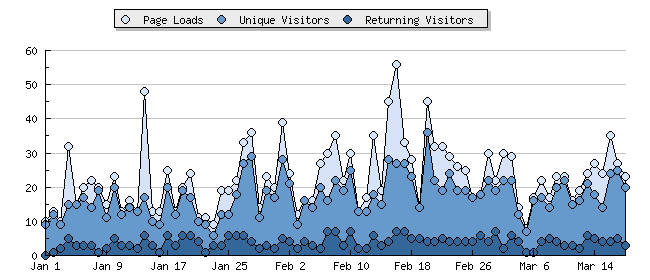 In terms of sheer popularity, this would suggest that I do not, in fact, have a successful blog. If I were actually attempting to make money off of the blog, for instance (say via click-thru advertising), I
might
have enough traffic to grant me the cost of a candy bar a few times a year. Nor am I getting the sorts of numbers that would allow me to see myself as any sort of popular pundit. If I were doing this for the sake of having a wide audience to gratify my ego, I should have taken down my shingle within the first few months.
Fortunately, my standards of success aren't entirely dependant on the size of my audience. I want to be clear that when I say it isn't
entirely
dependant that I do place value on having an audience. If that weren't the case, there would be no need for me to publish these musings of mine online. There certainly wouldn't be a good reason to keep posting essays week after week. While I do esteem my audience (especially those regulars who have deigned to put me in their bookmarks), I would much rather have a thoughtful audience than a vast audience.
In the interests of full disclosure, I should admit that it took me awhile to realize this. When I started
Unstructured Musings
, I genuinely did hope that I'd have hundreds of people hanging from my every word. When I didn't see those numbers, I grew concerned and tried to employ a few gimmicks. Back in June I spent some money on a service that promised to deliver unique hits to the site. The site did exactly as it promised. For several months, I'd regularly get well over a hundred hits. The problem was that none of them ever seemed to return and few of them even bothered to click to the archives. Examining where I was being hit from helped to explain why. My of my hits were coming from outside the US. I doubt that most of the people who came to me via that service even spoke English. Of those who did, it seemed apparent that few of them would have had any interest in the content of the site once they got here.
Then there was the Gmail contest that I held back in June. This was back when Gmail accounts were still hard to come by and people were willing to go to some lengths to get them. I offered a free gmail account to whoever posted the most insightful comment to any of my essays. I got a handful of takers, all of them exhibiting the bare minimum of effort necessary to constitute a reply. In retrospect, my little contest seems pathetically desperate.
Since then, I've learned to relax and allow my readership to grow naturally and it has, in fact, grown. Looking at the graph over the whole of the year, I've been getting a slow but steady increase in hits. Even more gratifying, I've finally started getting comments and feedback on a fairly regular basis — again, not a lot, but enough to deduce a trend. Better yet, the quality of the commentary has been very high. The people who have taken the time to reply to my essays have clearly put a lot of thought into their replies, which thrills me to no end. I've also spotted a number of unsolicited reviews of the site which have been uniformly complimentary.
Even though I'm not reaching a lot of people, it does seem that I am making a good impression on those people who I am reaching. I am proud that I have an audience of people who are intelligent and thoughtful, who take the time to give my musing consideration, and who are having their thoughts provoked by my essays.
For me, this is success. I could not have, in all earnestness, hoped for more.
It is at this point that I want to thank you for being with me this last year. It is also at this point that I need to announce a change to the site.
When I started doing this, I committed myself to a very ambitious schedule of posting once a week. I made the schedule even more ambitious by adding in weekly posts for poetry and interesting sites and then compounded that by launching the Unstructured Poems sister site. As I was doing all this, I wondered if I were crazy. In retrospect, I am certain that I was. I enjoy writing essays but an essay a week is a grueling schedule, especially considering that this is an unpaid hobby. While I have no regrets for the last year, I have to confess that this is a schedule that I can no longer maintain. In addition to a new and demanding (although enjoyable) job, I have also found that the effort of getting these essays out has been cutting into my home life and my reading time. This last is particularly frustrating given that it is my readings that, ultimately, provide the inspiration for the majority of my essays.
I am not quitting, but I am cutting back. Instead of a weekly essay, I will try to get a fresh essay out once every other week.
Tuesday Fun
and the
Thursday Poetry Slam
will remain on the same schedule. I would also like to continue providing
something
every Sunday. One idea I'd like to try out is providing pointers to quality offsite essays every second week (as I did two weeks ago). I'm also going to try and see if I can solicit some guest essays once in awhile. Any other thoughts or suggestions are certainly welcome.
Be assured, I am not throwing in the towel. Writing
Unstructured Musings
has been one of the definite high points of this last year and I intend to continue publishing it well into the future and I hope that you will continue to read it so long as I continue to write it.
Here's looking forward to another wordy and topically unfocused year.